CLARIS LPB
Hydroclimate and Society in La Plata Basin - EU FP7 Collaborative Project - Priority Area 1.1.6.3 "Global Change and Ecosystems"
The CLARIS LPB Project aims at predicting the regional climate change impacts on La Plata Basin (LPB) in South America, and at designing adaptation strategies for land-use, agriculture, rural development, hydropower production, river transportation, water resources and
ecological systems in wetlands.

The project is coordinated with, and contributes to, the objectives of
the LPB Regional Hydroclimate Project, an international project on La
Plata Basin that has been endorsed by the CLIVAR and GEWEX Panels of the World Climate Research Programme (WCRP).

General objectives of the CLARIS-LPB project are
· To provide an ensemble of regional hydroclimate scenarios and their uncertainties for climate impact studies.

· To project possible scenarios in land-use evolution for 2010-2040 and design adaptation strategies in terms of rural development for the most vulnerable areas.

· To design strategies to adapt to the possible hydrological scenarios and their consequences (hydropower, floods, river transportation and ecological systems in wetlands) over 2010-2040.

· To ensure wide dissemination of the project results to stakeholders, to the scientific community and to the public through the project web site, the production of reports, brochures, information sheets and scientific papers, and the organization of training activities for stakeholders.

· To foster long-term collaborations between European and South American Partners (sustained beyond the project lifetime).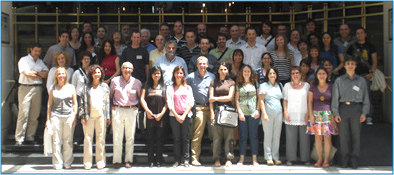 CLARIS LPB Participants to the Kick-off meeting in Buenos Aires, Nov.10th-13th 2008